SOLENOID PUMPS
[stextbox id="black"]Duplex – Solenoid pumps
In brass
Flow rate: 3 to 35 GPH at 60 Hz/10 to 130 l/h at 50 Hz
Pressure: up to 116 psi/up to 8 bar[/stextbox]
[stextbox id="grey"]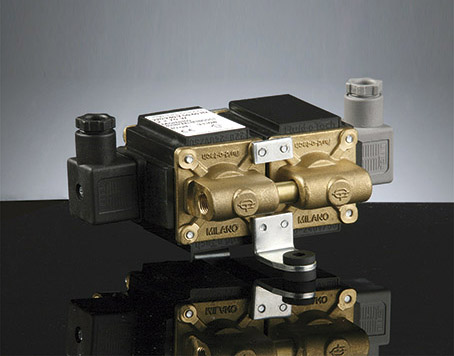 The Duplex solenoid pump is one of a range of solenoid pumps of compact size which embodies design excellence coupled with outstanding performances and reliability.
The Duplex pump designed for pumping liquids, operates on the solenoid principle. Motion occurs when the coil is energized with unidirectional impulses created by an alternating current passing through a diode.
The Duplex pump is brass made with threaded female 1/8" inlet and outlet ports, while the ball valves are in glass/EPDM. The piston working inside a brass tube is in stainless steel. The pump may be mounted in any orientation on shock absorbing supports for the quiter operation.
[/stextbox][stextbox id="info"]MAIN APPLICATIONS:
Post mix drink dispensers, Beverage vending machines, Reverse osmosis, Water carbonators, Ultra-filtration[/stextbox]