ROTARY VANE PUMPS
[stextbox id="black"]PO 70-400 B – Brass rotary vane pumps
With internal parts in stainless steel and graphite
Flow rate: 18 to 140 GPH at 1725 rpm/70 to 400 l/h at 1450 rpm
Pressure: up to 230 psi/up to 16 bar[/stextbox]
[stextbox id="grey"]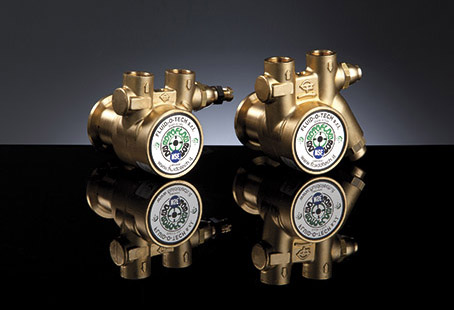 The rotary vane pumps, manufactured by Fluid-o-Tech and sold worldwide under the trademark Rotoflow, are volumetric pumps designed for pumping water and moderate aggressive liquids with low flow at high pressure.
The rotary vane pump is brass made with a stainless steel AISI 303 rotor, while the pumping chamber and the vanes are in carbon graphite. The inlet and outlet ports are 3/8″ GAS or NPT threaded. The pumps are designed to be directly mounted to the motor with a stainless steel clamp.
Maximum operative temperature: 70 °C (158 F).
[/stextbox][stextbox id="warning"]AVAILABLE UPON REQUEST:
Viton¨/EPDM seals, Built-in relief valve, Flange mount, Built-in 100 mesh strainer, California AB 1953 compliant brass
MAIN APPLICATIONS:
Beverage vending machines, Post mix drink dispensers, Espresso coffee machines, Water treatment, Water dispensers, Cooling systems,[/stextbox]