MAGNET DRIVE GEAR PUMPS
[stextbox id="black"]MG200-MG400 – Magnet drive gear pumps
In stainless steel with gears in PTFE or PEEK
Flow rate: 1 to 50 GPH/5 to 190 l/h at 3500 rpm
Pressure: up to 218 psi/up to 15 bar[/stextbox]
[stextbox id="grey"]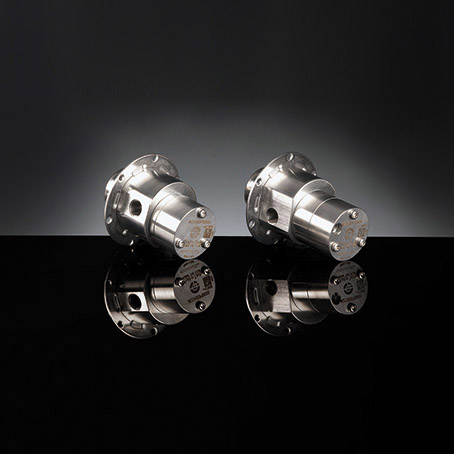 The MG series magnet drive gear pumps are compact precision performance pumps for high technology applications. The magnet drive principle provides a totally sealed pump chamber capable of handling a wide range of corrosive liquids with a high degree of safety. The housing of the pump and the internal metal parts are in AISI 316L stainless steel and the gears are available in PeekTM, Ceramic PeekTM or PTFETM.
In operation the MG series pumps are noiseless, pulsation-free and able to handle relatively high temperature fluids with low coefficient of expansion. The principle of the magnetic drive compries an inner magnet embodied in the pump and connected to the driving gear, and an outer magnet connected to the motor shaft.
The pole-to-pole alignment of the two magnets provides the driving motion to the pump. Decoupling will occur when the pump load exceeds the maximum coupling torque provided by the alignment of the two magnets.
[/stextbox][stextbox id="download"]AVAILABLE UPON REQUEST:
Built-in relief valve, Rare earths driven magnet
MAIN APPLICATIONS:
Medical and surgical equipment, Hemodialysis apparatus, Laser apparatus, Lubrication, Ink-Jet printing systems, Cooling systems, Laboratory instrumentation, Water treatment, Sampling, Food processing equipment[/stextbox]