MAGNET DRIVE GEAR
[stextbox id="black"]DGM09 – Magnet drive gear pump motor units
In Vectra, food grade material, magnet drive version
Flow rate: 13 to 37 GPH/50 to 140 l/h at 3000 rpm
Pressure: up to 58 psi/up to 4 bar[/stextbox]
[stextbox id="grey"]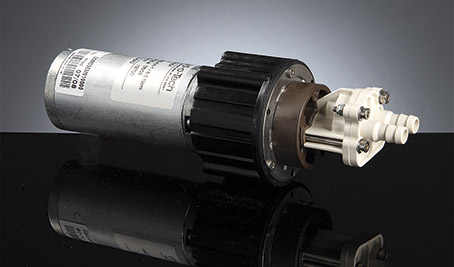 The DGM09 series magnet drive gear pumps derive from the well established mag drive MG200 series. Built to handle clean water and relatively viscous fluids at low
pressure, the DGM09 series pump-motor unit has low pulsation and is capable of handling fluids at a maximum temperature of 95 ¡C (203 F). The pump housing and the gears are made of Vectra. Seals are available in NBR, EPDM or VITON¨.
The seal less design is guarantee of reliability. Suction/discharge ports are 8 mm barbed end.
[/stextbox][stextbox id="download"]Motor version (brush type):
3000 rpm, 12-24 V DC
MAIN APPLICATIONS:
Water purification, Laser cooling, Spraying, Water recirculation, Condensation removal, Low pressure carbonation[/stextbox]