ROTARY VANE PUMPS
[stextbox id="black"]TM 30-200 – Brass and stainless steel magnet drive rotary vane pumps
In brass or stainless steel with internal parts in stainless steel and graphite
Flow rate: up to 154 GPH/550 l/h at 3500 rpm
Pressure: up to 200 psi/up to 14 bar[/stextbox]
[stextbox id="grey"]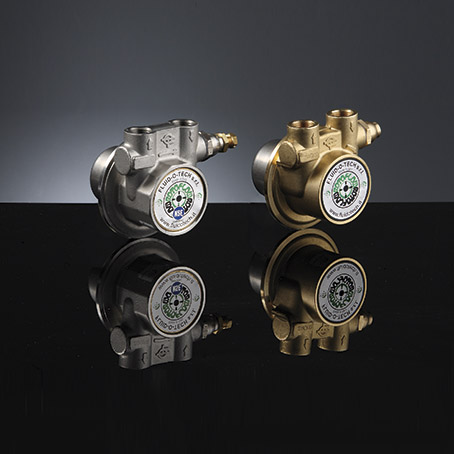 The Fluid-o-Tech magnetic drive rotary vane pumps combine the established range of pumps with the added advantage of an indirect magnetic coupling:
• longer service life
• totally sealed body
• low maintenance
• less power consumption
• smooth transmission
The principle of the magnetic drive comprises an inner magnet embodied in the pump and connected to the rotor, and an outer magnet connected to the motor shaft. The pole-to-pole alignment of the two magnets provides the driving motion to the pump. Decoupling occurs when the pump load exceeds the coupling torque between the magnets. The introduction of a new driving magnet with increased torque (available upon request) brings the maximum operating pressure to the same values of the PO series with direct coupling. The Rotoflow TM series magnetic drive rotary vane pumps are available in stainless steel AISI 303 or brass, with carbon graphite internal components.
Maximum operative temperature: 70 °C (158 F).
[/stextbox][stextbox id="warning"]AVAILABLE UPON REQUEST:
NBR, EPDM or Viton® seals
MAIN APPLICATIONS:
Espresso coffee machines, Cooling systems, Water treatment, Booster systems, Solar systems[/stextbox]