MAGNET DRIVE GEAR PUMPS
[stextbox id="black"]MG300 – Magnet drive gear pumps
In stainless steel with gears in PTFE or PEEK
Flow rate: 1 to 50 GPH/5 to 190 l/h at 3500 rpm
Pressure: up to 218 psi/up to 15 bar[/stextbox]
[stextbox id="grey"]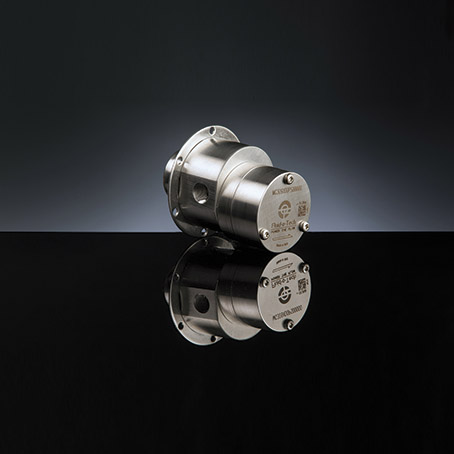 The MG300 series magnet drive gear pumps are compact precision performance pumps for a wide range of specialized applications. Thanks to the improved design, the MG300 series grant a more accurate and uniform delivery regardless of the fluid temperature.
The seal less design with the magnetic transmission of the rotation is guarantee of a leak proof product. Static seals are available in PTFETM / NBR / VITON¨/ EPDM / SILICON, in order to guarantee the highest chemical compatibility with a wide range of fluids.
The housing of the pump and the internal metal parts are in AISI 316 L stainless steel while gears and bushings are available in PeekTM, Ceramic PeekTM or PTFETM.
In operation the MG300 series pumps are noiseless, pulsation-free and capable of handling relatively high temperature liquids (up to 120 ¡C or 248 ¡F) with low coefficient of expansion. Operation at different pressures ranges is possible thanks to a choice of materials for the magnets.
[/stextbox][stextbox id="download"]AVAILABLE UPON REQUEST:
Rare earths driven magnet
MAIN APPLICATIONS:
Medical and surgical equipment, Hemodialysis apparatus, Laser apparatus, Lubrication, Ink-Jet printing systems, Cooling systems, Laboratory instrumentation, Water treatment, Sampling, Food processing equipment[/stextbox]